Cottman Franchise Opportunities
Roll with a Winning Team
Franchise With Cottman
Being your own boss at Cottman, means you don't have to go it alone. From the moment you become a business owner at Cottman Transmission and Total Auto Care, you're part of our family.
We will hand you a well-oiled business model – with the support of a nationwide team, an established system for success, and peers who are just as committed to your success as you are. There has never been a better time to roll into the Cottman family and benefit from decades of experience and a trusted reputation for quality auto care.
Millions of car owners think of Cottman as "my mechanic." It's the national brand that provides local service, offering one-stop service for total car care. After 50 years, we've become an automotive aftermarket industry leader with locations nationwide.
Cottman Franchisee Advantages
Proven business concept, established name, and recognized product
50 Years of automotive and franchise business experience
Centralized corporate support to help grow your business
Established systems and in-house marketing support
Personalized attention and training
Cottman: Reputable Brand, Fast-Growing Market
Cottman helps you write your own ticket to freedom and success without starting from scratch. When you join the Cottman team of franchisees, you join a nationwide system in one of the strongest consumer markets. Since Cottman operates with a family atmosphere, franchisees receive unparalleled one-on-one attention. In fact, you'll feel like the big fish in a small pond.
No mechanical or technical experience required
Growing consumer demand
Nationwide brand providing total car care
Industry referrals as recognized experts
Convenient hours
Few employees to supervise
Low inventory levels
Excellent training
Financing Options
  
Cottman Franchisee Testimonials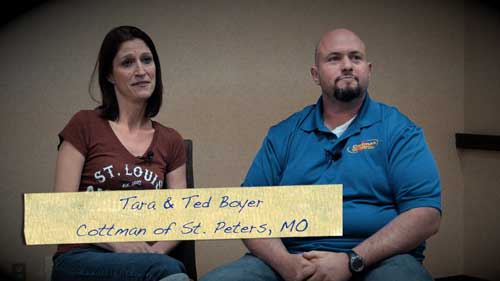 Tara and Ted Boyer
Cottman of St. Peters, MO
"I had an independent transmission shop for ten years, started in the business 5 years prior to that.  I wanted to build for the future and I wanted to build a business that would be worth something in the end and something I could start to step away from the day to day operations of fixing the vehicles.  Tara's father had been in the Cottman organization for a long time prior to that so Cottman was a brand I looked into to open a franchise and sold my independent.  The reputation, the name, and knowing we are leader in the industry.  We are on the fore front of our marketing.  We are on the fore front of our technology.  Knowing the vehicles, being able to repair the vehicles and staying ahead of other shops in their diagnostic capabilities and repair capabilities."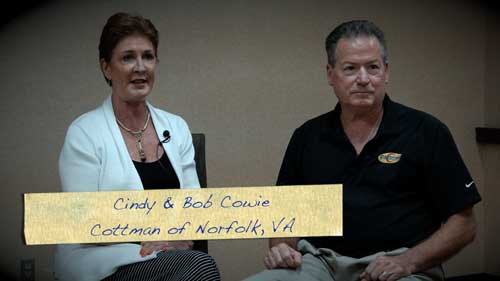 Cindy and Bob Cowie
Cottman of Norfolk, VA
"25 years of business in the corporate world at some point I realized I wanted to work for myself and Cottman seemed to be a great opportunity to do that where my only boss would be my customers.  Our name in the business, in our market place in the City of Norfolk, the repeat business we get and system wide.  I don't know of a Cottman center that doesn't have a great tradition, name, reputation.  We come to these conventions, meet everybody and we understand why."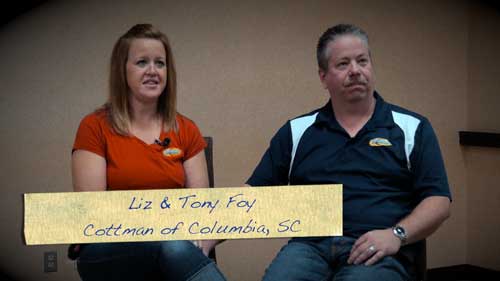 Liz and Tony Foy
Cottman of Columbia, SC
"I really liked the camaraderie of the Cottman name, the people who work at Cottman are great to deal with.  I like dealing with the people that work there.  It's was a well-built name in the past and it's been around for over 50 years.  Knowing we are providing good service to customers, we work very hard to do that for the customers and we try to make the name one of the top in the business.  We are a lot like Cottman, we want to live up to the brand and that's the way we live our life."
Cottman's Digital Marketing Strategy
Attending Annual Conventions and Regional Meetings
This website and the franchise sales information on this site do not constitute an offer to sell a franchise. The offer of a franchise can only be made through the delivery of a Franchise Disclosure Document (FDD). Currently, the following states regulate the offer and sale of franchises:  California, Hawaii, Illinois, Indiana, Maryland, Michigan, Minnesota, New York, North Dakota, Oregon, Rhode Island, South Dakota, Virginia, Washington, and Wisconsin.  If you are a resident of one of these states, we will not offer you a franchise unless and until we have registered the franchise (or obtained an applicable exemption from registration) and complied with the pre-sale disclosure requirements that apply in your jurisdiction.